Will Uber let drivers set their own fares?
Reacting to California passing AB5, which requires rideshare drivers to become employees, Uber's scrambling. They've rolled out a limited test to see what happens if they allow drivers to set their own fares.
Why would Uber do this? If drivers set their own fares, they look more like independent contractors.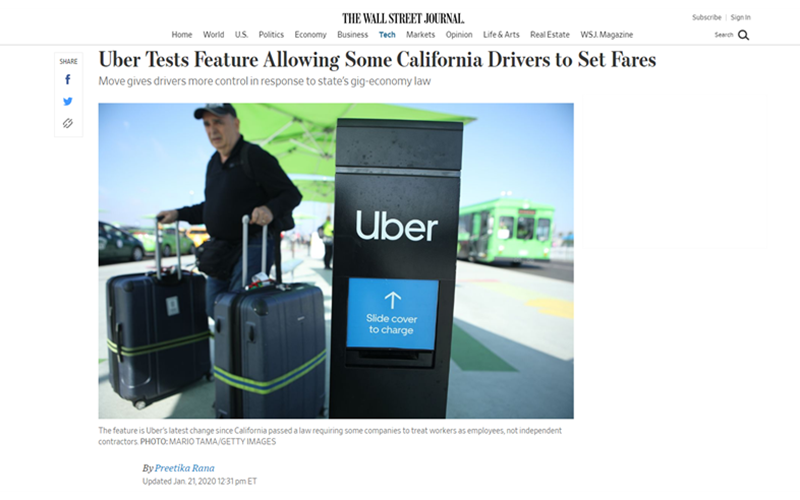 As the WSJ put it, "Uber's latest changes will set up a bidding system that lets drivers increase fares in 10% increments, up to a maximum of five times Uber's set price, the person involved in developing the feature said.
"That price includes base fare, time spent and distance covered by a driver. There is no limit on how often drivers can raise prices. Once a rider pings the Uber app at the locations in the pilot program, Uber will match the rider with the driver who has set the lowest price, the person said. Drivers who have set higher fares are gradually dispatched as more riders request rides."

If Uber allows drivers to set fares, expect Lyft and all rideshare partners will do the same.
Good or Bad for Drivers?
There are a few implications for drivers and riders if this becomes a standard feature in the next evolution of rideshare apps.
In this pilot test, it appears drivers set the price. Uber's platform servers make the matching decisions, linking riders to the lowest bidders. Then the computer algorithms move down the list of driver 'bidders'.
In this limited test of rides from airport environments, the app and the rider don't need to factor in wait time.
Watch this Social Experiment Unfold
Inadvertently, Uber's pilot test sets drivers up to create their own price wars or surges.
Will individual drivers bid low to get the business or will drivers 'collectively' go high?
Will this dynamic constantly play back and forth?
Uber Drivers Could Set Fares & More
This model could pave the way to the next leap in rideshare services.
Uber's rider app could offer riders their choices and they make the selection as to which Uber they want.
That functionality opens the door to a driver pitching their profile and customizing their service, truly supporting the argument that rideshare drivers are independent contractors.