Today we reach one of our few, pre-planned stops. Sekiu Washington. We planned virtually nothing for this trip. Not the charging, not the campsites, not our route, nothing, except we knew we wanted to make 3 stops: Salt Lake City to see my son who lives there. Prineville Oregon to see our friend Shannon who just moved there. Sekiu Washington to see Kathy's daughter and son-in-law Kara and Zander who also just moved there. Things did not work out in Salt Lake City. My son was going on a climbing trip when we would arrive and our non-planning planning was not helpful in that endeavor. He was able to give us great advice while we were on the road that really made our trip better. We will catch you soon Bobby, promise! The Shannon stop worked out and your can read about that here. But today, we rock up in Sekiu.
I do not know how you are saying that (Sekiu) in your head, but it is wrong. It is said (C-Q). All the town names in the Upper Left USA have not only weird names, they say them weird too. Like Pysht, Sequim, Blyn, Elwha, and Waatch. They have some cool names too like: Beaver, Forks, Shadow, HumpTulips, Sappho, and Turkey. At some point before we leave, we will need to get to the SuperCharger in Sequim. You might think you are saying that right in your head too. You are not. It is pronounced: SQIM. I think they were going for SQUIRM and just misspelled it, but that is me.
We arrive pretty early in the day and everyone in the house is working. They all work remotely too. Kara was online running some meetings in Silicon Valley. Dan was troubleshooting some servers in Redmond. Ashley was holding a video conference call with headquarters somewhere in Washington. Very 2019. Live where you want, work remote. Love it. No commutes. They are all very professional and it was impressive to watch them all do what they do. Humans living like we are supposed to, have a life, do good work, share with others, and live comfortably within your environment.
Zander (or Z as we will refer to him from now on), had the job of showing us around as he was still waiting to get his job started (still waiting on paperwork). so we did not interrupt the business day.
The view from their beach is pretty great, so Z took us on a walk with Moro (the dog in this story).
Where the river meets the sea.
Ashley (who owns the house), is/was kind of overrun with us all. 6 adults, 1 dog and 2 cats had invaded her house! Z, Kara, and Dan had just moved in as roommates, bringing 1 cat and 1 dog with them. Then, from outta nowhere, Kara's parents show up and it looks like they are going to stay awhile. Ashley was just awesome about the whole thing and was the very best host you can imagine. Thank you for letting us share your space with you. A very kind soul. It was so great to meet and spend time with you.
After the workday ends, we get to do some site seeing and catch up with everyone! We first go off to the Calvins Crab Shack on the Makah Indian Reservation for some fish and chips.
After dinner, we go on hike. The trail is pretty easy, but it takes us to the upper, leftist, most point in the USA. Cape Flattery.
That island is the actual edge of the USA. Past that is nothing but the Pacific.
Spectacular scenery all along the trail.
Bays, islands, inlets, and cliffs. Some animals too.
We go home (as it were) and plug the Tesla into the 110v wall outlet. Works for a little while, but then stops. We will check it in the morning as we are just fine for charge. We are going to sleep in the Tesla again tonight as it is pretty tight indoors. No problem. I like sleeping in the Tesla.
For those who have not been counting. This is our 19th straight day of sleeping in the back of our Tesla. 2 ½ weeks straight. Best camping trip I have ever been on and I have been on more than a few. Count me surprised.  We setup to stay awhile!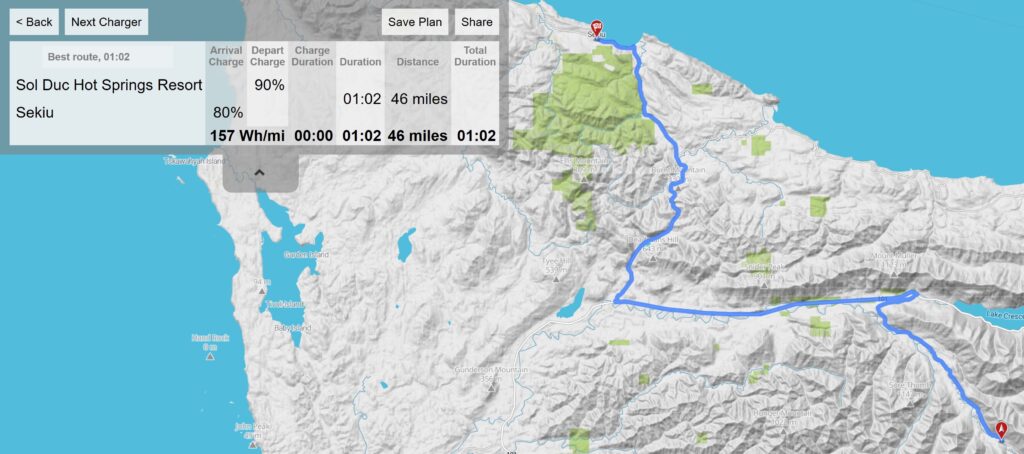 Not far today, but no charging either! We have spent the last few days all over the Olympia Peninsula without a supercharger in site. With good range, you just drive a Tesla like any other car. Range Anxiety? None.