I want to drive an EV for my rideshare business. It only makes sense in so many ways. Mostly because it is by far the cheapest type of car to own and operate. But one thing really stands in the way: Commercial Rideshare EV Charging. Right now, I can't 'legally' use a Tesla Supercharger if I use it to drive rideshare. Ditto for any taxi or commercial driving business.
I can charge at home, and that is ok for most cases. But what if I don't have a place to charge? What if I am running a commercial business? Xcel Energy in Colorado will help! And it will only cost them about $9 million to roll this out! That is nothing to a company of this size.
Xcel's New EV Project
The aim of this project is to promote the usage of more electric vehicles in Colorado and Denver. The extension of electric vehicle charging infrastructure will encourage Uber Technologies Inc, Lyft Inc and other taxi services to deploy electric vehicles. The project also promotes usage of electric buses for public transportation.
That is great! I have always thought this is part of a much bigger business opportunity. Electric Vehicles are coming and so is the clean energy to juice them up.
The U.S. Energy Information Administration ("EIA") projects that wind, solar and hydropower energy will generate 18% of electricity in 2019 and 19% in 2020 in the United States.
How did Xcel get to this point?
Xcel did not use to be renewable friendly. Far from it. So much so, that in 2011, Boulder Colorado sued to leave the Utility all together and go it alone.
Boulder, in its announcement late Tuesday, said it wants Xcel's equipment in order to establish a new city-owned utility that would provide "a cleaner power supply" to the city's residents.
Boulder voters in 2011 approved the creation of a new utility as long as several conditions were met, including that the new utility could meet or beat Xcel's service in terms of reliability and rates. In November 2013, Boulder voters also set a cap of $214 million in debt that the city could take on to pay for Xcel's equipment needed to serve the new utility.
Xcel tries out renewables
This move sent shock waves thru the utility company. Because if one city could do it, then any city could do it and they knew it. Eventually they saw the writing on the wall and became very climate conscience. They started slowly when they put up a solar farm and battery plant out at Denver International Airport in 2016.
For one project, known as the Panasonic project, Xcel will install utility-scale solar generation and one large battery at a location near Denver International Airport. The Panasonic project will have the capability to be operated as a microgrid as well as connected to the regional grid.

For the other project, known as the Stapleton project, Xcel will install six batteries on the customer side of the meter at residences that already have rooftop solar. Another six batteries will be installed on Xcel's feeder line in that area, which receives significant power flowing from distributed generation. These utility-sited batteries will store excess energy and discharge it during peak load hours.
You can see these projects every time you drive out to the DIA on Pena Boulevard. The Panasonic building and the solar arrays are right by the road. Check it out when you rent our Tesla Model 3 (T3PO) on Turo. We keep it at the airport!
Xcel goes all in for renewables
This first project only cost $9.1 million dollars and opened up some eyes to the potential. Then, in 2018, Xcel proposed the "Colorado Energy Plan" for 1100 MW of Wind, 700 MW of Solar, and 380 MW of existing natural gas and 275 MW battery storage. 2 Coal-fired plants in 2020 will be retired because of this plan. Xcel received over 400 bids for the project and every one of them was ½ the price paid for the coal plants (that were brand new). Yes, it was cheaper to build something else than fully depreciate these new plants.
In the past four years, the average electric bill for Xcel Energy's Colorado residential customers has decreased by 6%, and this proposal will help keep Colorado electricity costs for consumers low and predictable.
"Colorado has a historic opportunity to take advantage of renewable-generated electricity available through competitive market acquisitions at historically low prices while investing in good-paying jobs and cleaner air," said Sarah Cottrell Propst, executive director of the Interwest Energy Alliance. "Interwest is pleased to be part of such a broad coalition working toward a clean energy future and new opportunities for economic growth."
New direction for Xcel
Xcel Energy in Colorado has turned itself around from being 100% coal- fired to really pushing for renewables. The citizens of Colorado demanded it. But, their response has paid off financially for the company.
In the past 12 months, shares of Xcel Energy have rallied 32.2% compared with the industry's rise of 12.4%.
That this plan has been approved means more savings for Colorado citizens.
The Colorado Public Utilities Commission voted 2-1 in support of what Xcel calls the Colorado Energy Plan, which the company says will cut carbon dioxide emissions by nearly 60 percent, increase renewable energy sources to 55 percent of its mix by 2026 and save customers about $213 million.
As part of the plan, Xcel, Colorado's largest electric utility, will phase out its Comanche 1 and 2 coal-fired plants in Pueblo about a decade earlier than the original target date of 2035. Xcel says the plan will invest $2.5 billion in eight counties and save customers about $213 million, thanks to the declining costs of renewable energy.
Now, Xcel wants to push this further by helping us buy and use electric vehicles for rideshare!
Coal is history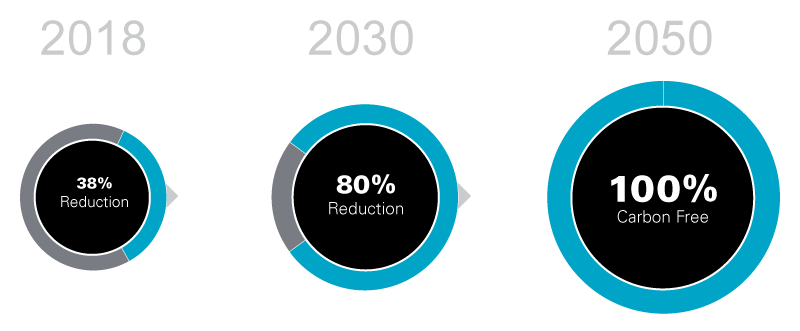 Coal is history. It has been since the invention of grid battery storage. In the future, you can be sure your new EV will not be running on coal-produced electricity. Don't think so? Look at Peabody Coal.
The largest coal company in America, Peabody Energy
(NYSE: BTU), said that it was lowering its outlook for Q3 in an announcement that sent shares falling by 10%.

Management tried to downplay the news, it certainly isn't helping the already beleaguered coal giant. Shares of Peabody are down 54.2% so far for 2019 despite the fact that the company has consistently been buying back its stock. Even though Peabody has bought back more than 34 million shares over the past 18 months, Peabody's stock continues to fall.
Peabody might still be the best capitalized pure-play coal stock in America (and possibly the world), but what does that matter if coal as an industry is in a terminal decline globally. It is clear at this point that Peabody has no plans on being anything besides a coal company, and its shares are likely to decline further in the years to come because of that.
An option for you?
This isn't happening everywhere, but it is happening in a lot of places. If you live in Colorado: get an EV for your rideshare wheels ASAP. Rideshare EV charging is right around the corner!